Kudzu Craft comfort frames
One of the drawbacks of fuselage frame kayaks has always been the frame hit you in the calf muscle. While I loved my first fuselage frame boat I hated the frame in the back of the calf muscle! It took some experimenting but I solved that issue some time ago and found a way to keep the frames strength and remove the frame from under the calf muscle. All of our boats (except the free plans) have incorporated this design for some time now.
The past year I have been working on another issue, knee room. To get adequate knee room under the coaming with plywood frames, the deck height has to be pretty tall, This raises the coaming up to high and would lead to banged knuckles on the coaming.
I have been experimenting with a simple laminated beam to replace the plywood frame at the front of the coaming. The idea worked better than expected and it also allowed me to redesign the deck shape and improved the looks of the boat. It works so well that we are slowly incorporating it into all of our kayaks plans and kits.
Kudzu Craft is the leading innovator in Fuselage Frame kayaks. We are always looking to improve and innovate.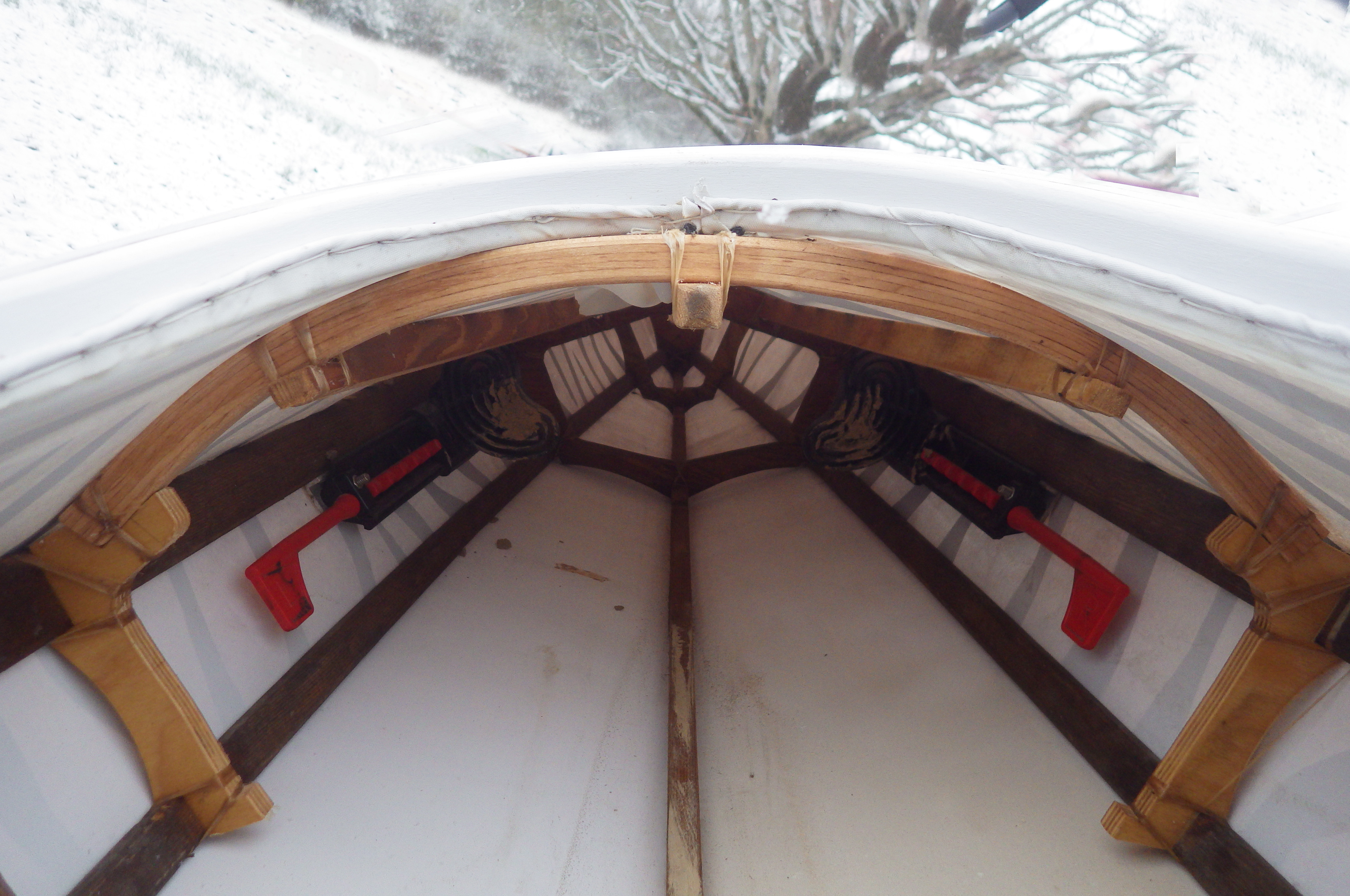 KIDS KAYAK
Tadpole


Tadpole is our Kids kayak design. It was designed to look just like Dad and Moms boat but it is scaled down for the smaller sizes. Tadpole is 12 feet long and has a beam of approx. 19″. Her maximum displacement is 150 lbs. This is a good way to get them started young and in a proper boat. Plans are available in the store.
KAYAKS UNDER 15′ LONG
Full size plans available in the Store

FreeB is a 12′ recreational kayak. It has a 36″ long coaming making it easier to get in and out of. It is designed to be very stable and should be comfortable for first timer paddlers. I can imagine this boat being used for fishing or photography from in flat water. I would not recommend it for open water.

Mess Abouts & Cast Away You have asked for it and it is finally here, a smaller, open cockpit, recreational style boat. There are a lot of people interested in a short boat to just "Mess About" in. It has taken a lot of work but it finally finished.

Cast Away the fishing version of the Mess About is available too. It has flat rear deck for rod mounts and a well for the fisherman's milk crate that are so popular.
KAYAKS OVER 15 FOOT LONG
Full size plans available in the Store

Curlew is what I like to call a fast cruiser. However, top speed was never a consideration in this design, instead it was optimized for the 3 to 4.5 mph range. The speed range most recreational paddlers paddle 95% of the time. This way you get the most speed for your effort.

Ravenswood is another fast cruising hull. It is based on the Curlew hull but has a little better performance in the 3-4.5 mph range. The resistance is a little lower than the Curlew, making it a good choice for most paddlers. If you are into fast paddling this is not the boat for you. At 5 mph the resistance starts to increase dramatically. But this is into sprinting speeds for the average recreational paddler.

Ravenswood Low Volume
Designed for the smaller paddler, it is basically just a smaller Ravenswood. We have found that the lightweight paddler doesn't sink the Ravenswood enough and boat has very little tracking with so little of the hull in the water. We we modified the design so that it will sit lower in the water with the smaller paddler.

Short Shot as the name implies is just a shorter version of the Long Shot. It has a multi chined (round) hull shape. By going with a rounder shape the boat has less wetted surface area which lowers the resistance. It should be quick boat and easy to paddle.

Vardo The design goals were for a boat a new paddler would be comfortable in and not outgrow. Large enough for weekend camping and a larger cockpit with lots of knee room.
Vardo has meet those goals. It's performance has been better than expected and I find it to be a good all around boat. I often use mine when I am going fishing on one of the creeks. I have not camped from it but it has the space. A couple of hatches for access to the ends of the boat and it would be a good touring boat.

Shad can trace its lineage to Greenland hunting boats. Of course it is long removed from it's distant relative but it inspired this design. I have long been a fan of traditional Greenland boats with the long pointed bows. Many people say the long bows were a waste but they actually served a purpose where they were paddled. I just think they look cool!

Long Shot has a multi chined (round) hull shape. By going with a rounder shape the boat has less wetted surface area which lowers the resistance. It is noticeably faster and it has quickly become my go to boat. The low seating position makes it more stable the numbers imply. If you are a stronger paddler this is a boat you want to consider!

Firefly is what I like to call a "Modern Baidarka". It is not true to the 'traditional' Baidarka design but is very much inspired by them. Most single hole Baidarkas were very small boats with low stability and a small ocean cockpit. Not something most paddlers today want. I have always loved the Baidarkas but was always afraid I would never be happy with one so I decide to design my own.

Sling Shot is a performance boat with a single hard chine instead of the multiple chines like Firefly and Long Shot. In order to increase the performance potential the hull is longer and has a narrower water line. It also has a more pronounced V shape. The trade off is it's lower stability.